"…abstract artist of diverse, innovative works characterized
by geometric shapes, pure color, and lucid design."
by Lilly Wei
Ron Agam is an abstract artist of diverse, innovative works characterized by geometric shapes, pure color, and lucid design.  He is also a photographer of note, both of portraits and striking, oversized close-ups of representational images that verge on the abstract.  He says he sees only patterns when he works, not the actual rose, for instance.  Experimenting with lenticular printing and holography, his curiosity about mediums and their potential is ongoing and wide-ranging.  Tilting toward the modernist, his practice is a reconsideration of Russian Constructivism, de Stijl, Op and Minimalist art, all movements that have intrigued and influenced him.  When asked why he became an abstract artist focused on color, Agam said, "I was always surrounded by abstraction. It was like being thrown into the ocean and told to swim and my ocean was abstraction, I didn't know anything else."
Agam uses both canvas and wood as his supports, the latter sometimes treated three-dimensionally and might be classified as sculptural reliefs, filled with raised circles, squares and other such forms. His production is marked by the immediacy of its impact, the colors extraordinarily vivid, often enhanced by their cannily calibrated juxtapositions.  Usually based on a variant of the grid, Agam's compositions are elegant, clean, the overall execution highly polished.  The phenomenology of the perceptual, the effects of color, light, shape, their interaction in space and the optical movement they create comprise the core of his astonishing production. He both makes his works by hand and utilizes technology but he does not fetishize either, he said.  Nonetheless, Agam revels in the sensuousness and the physicality of materials, the paint, the wood, even the epoxy he spreads over the surfaces of some of his works like a second, reflective, transparent skin.
"…The phenomenology of the perceptual, the effects of color, light, shape, their interaction in space and the optical movement they create comprise the core of his astonishing production."
Although surrounded by art and involved in the international art world from infancy, he began painting seriously only a few years ago.  Soon after, he added small wood panels with raised images created by a high-speed router to his repertoire, inspired by Jean (Hans) Arp, whom Agam has admired since he was a child.  From there, his ambitions and his scale expanded exponentially, his sense of urgency spurred by a feeling that time was slipping away from him and he needed to catch up with his destiny.  He works intuitively, fearlessly, and incessantly.  Stimulated by challenges, he likes to quote Matisse's observation that an artist should not permit himself to be imprisoned by anything in the field of abstraction.
His recent projects continue to explore the themes and motifs that he first established when he began to make art, although the present works are generally less giddy, less hallucinogenic than some of his previous, more optically unsettling lenticular and holographic ventures.
That said, his vertigo-inducing pinstriped blue painting of two different shades of blue against a white ground packs quite a visual punch as it advances and recedes, as does a red octagon that suggests a wavering abstract flower.  Its chiseled, angled swirl of white lines, as well as its irregular perimeter, stirs the surface into choppy, mesmerizing motion, as if seen under the influence of an intoxicant.  Another work is calmer, its pristine white field supporting a three-tiered trio of what looks like giant sugar cubes attached precariously to it at a single point, the upper faces—each painted a different color—tipped upward toward the field, lighting it with a small beam of reflected color, a low-tech, environmentally friendly illumination system. A related work also features a series of white cubes, only much smaller, arranged as a grid of eight by eight little squares, the sweet colors, like those of candy or pills, pulsing gently but insistently.
Other recent works are more or less straightforward paintings of nested squares that recall those of Josef Albers, Frank Stella and Richard Anuszkiewicz. Agam, however, adds his own twist to them, such as in Disruptive #2, by superimposing another system of chevroned stripes over the main composition, creating an optical collision, complicating the reading of a work that, as always, explores the compelling, subjective experience of color.
Lilly Wei is an art critic for the major art publications in the US and independent curator based in New York.
Watch this exciting video!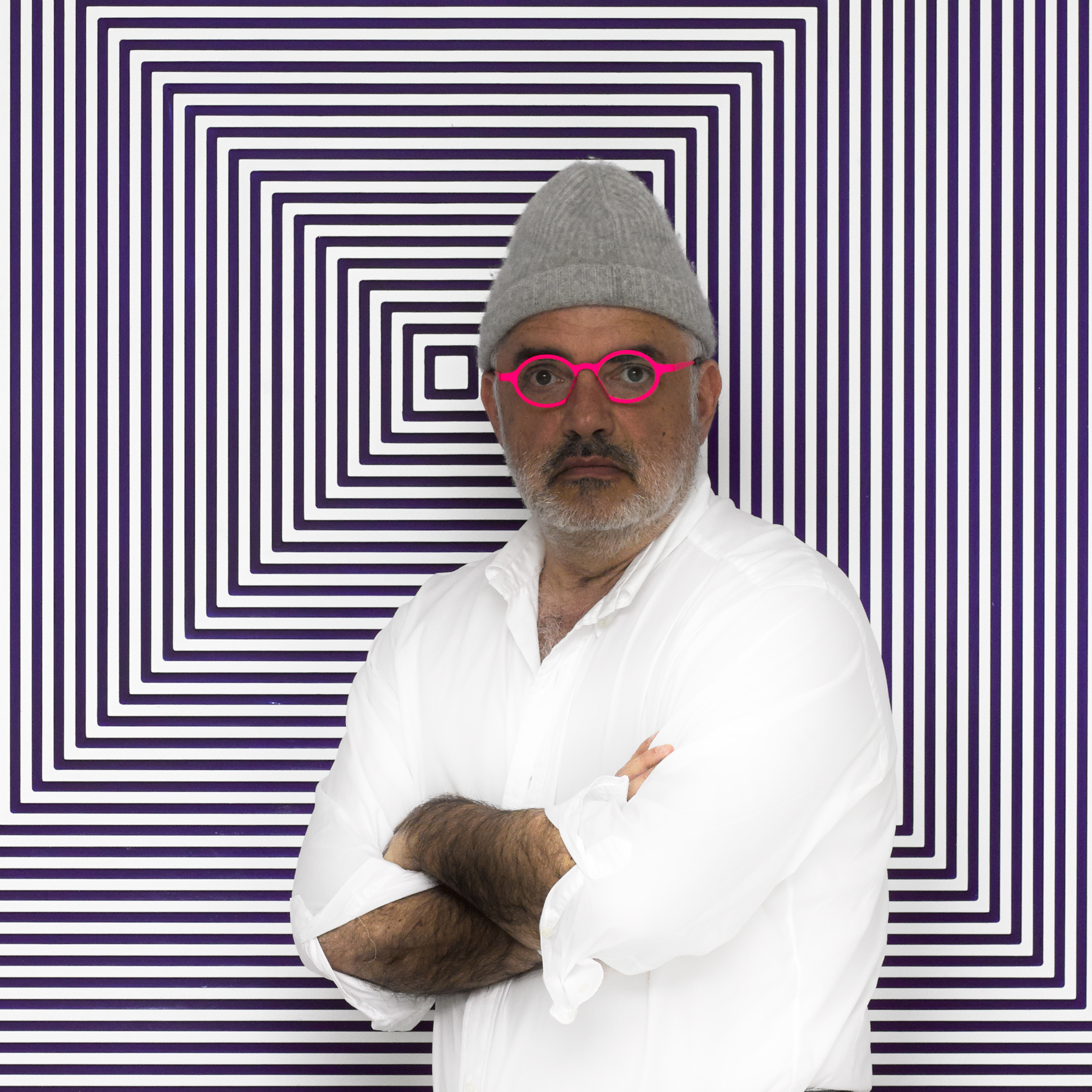 Living Among Lines
Ron Agam, a New York City abstract artist of diverse, innovative works characterized by geometric shapes, pure color, and lucid design. , sees the city as an inspiration for his work. This short film on the artist is directed and filmed by Jordi Egea, a talented Barcelona filmmaker . Year 2014
by Etienne Sauret
This is a movie about Ron Agam and his latest work In Full Bloom. The movie is hip, fun, serious . It was shot by Etienne Sauret, award winning documentary filmmaker with state of the art HD camera RED. Special thanks to Crystal Castles for the use of their hit song Crimewave. If you like it , I love for you to share it with your friends so many more people can see it. Comments are welcome.
In this new land of abstraction, Ron is an explorer who at once discovers and reveals.
This kind of communication with the viewer is subtle and subjective. I invite you to look and to ponder.
by François Delattre
Ambassadeur de France
aux Etats-Unis
Ron Agam and I met in 2004 soon after I had taken up my post as Consul General of France in New York. During our many subsequent discussions, I was especially struck by his commitment to art as well as his remarkable ability to bridge peoples and nations. Indeed, he holds a unique position both as an artist and a humanitarian. Ron always sought to encourage peace and mutual understanding among peoples through his political activities which center on New York, Israel and France. I am most grateful to Ron for the partnerships he helped build between the Jewish community in New York and France. I'll always remember one iconic moment: the day that Shimon Peres chose to launch the publication of his definitive biography at the French Consulate in New York. Without Ron's steady advice and support, this would not have occurred. Let this one example suffice to illustrate the significant ties which were made and the goodwill fostered thanks to his collaboration. For all his singular work, Ron was conferred the insignia of Chevalier of the French Legion of Honor in 2008.
I remember Ron telling me about growing up in France and Israel nurtured not only by these two cultures but also by an artistic family with a father who remains a reference in the contemporary art world. Ron developed a rich, wide-ranging perspective early on. As an adventurous young man of nineteen, he decided to leave for the United States. It was a flourishing period; he was captivated by the New York art scene and the stimulating environment of the artists of that time, among them Andy Warhol. He acted as a liaison between artists and the public in many of his ventures and then started exhibiting his own photographs in 1994. These pictures have led him to unexpected arenas – and equally unexpected encounters, from Mayor Rudy Giuliani to Madonna – and frequently offer the viewer an utterly unfamiliar world, such as the conclave of Mea Shearim and, of course, the images of that unspeakable day of 9/11. On that morning, he had raced down to the disaster area from his nearby studio, wanting first and foremost to help the survivors. His photographs of that day remain a testimony to the suffering and the heroism of thousands.
Ron Agam constantly brings fresh, new elements to his work. In his 2009 exhibition "In Full Bloom," his photos depicted flowers on a monumental scale, almost the size of the viewer himself; one might say that they resembled portraits of human beings, provoking thoughts about our vision of nature and our place within it.
I am delighted to introduce this latest facet of Ron Agam's creative work as an artist. In this new land of abstraction, Ron is an explorer who at once discovers and reveals. This kind of communication with the viewer is subtle and subjective. I invite you to look and to ponder.
By Bertrand Delacroix
I discovered Ron's universe of color a year ago when I visited his spacious Long Island City studio. I fell for his work instantaneously and planning a show only seemed normal! I was filled with excitement for the challenge, and had so much burning anticipation it would keep me up at night! I would wake up after only a few hours and think about the numerous details involved in planning a show of this magnitude. I simply couldn't shut my mind down. So my day would start, I would get up to write my thoughts and send 3 AM emails…
Until one night, I forced myself back to sleep by focusing on one particular work: Into the Galaxy. What an appropriate title for such an extraordinary work. It would provide me with a visual sensation and an optical illusion similar to the Newton Color Disk. And while my imagination would be drawn into the spiral of colors, I would direct my attention to the tiny, light-blue dot at the abyss of what my mind perceives as a round, upside-down pyramid. I would embark onto a vertiginous color trip, where shades hypnotized my brain like radiations in a time machine. Colors would mute the chaos of my constant thoughts and slowly I would fade into deep sleep, entering Ron's Kingdom of Color.
Thank you Ron for providing me with joy at day and peace at night.